Lou Christie Hits the North Fork Theatre at Westbury

Rockaway, NY AUGUST 5,2005
By Les Gardonyi
Lou Christie doesn't just sing about lightning &endash; he IS lightning! He just takes charge (pun intended) and sends out the music-packed bolts to his screaming fans with confidence and charisma. Lou Christie (born: Lugee Alfredo Giovanni Sacco) at 62, remains true to the sound which he created in the early sixties with his falsetto trills and the occasional risqué lyrics. "I still want to rock 'n roll with you!" he sings out in bravado fashion and the fans seem to love it -but there's a disturbing chant which hangs in the air after each of his initial numbers that sounds like " Boooo!, Boooo!"!? During intermission, I went over to a fan and asked why he was booing the star. "No!" he says…" We're shouting, Louuuuuuuuu!". (Ooooops! Never mind.) Lou reminisces about the days of Mercury's and Ford's -vintage cars that were cleverly parked outside the North Fork Theater on memory lane creating that American Graffiti- mood. An uninhibited performer, Lou reaches deep into his trousers to demonstrate to the audience how he's able to create the high tones in his songs that have made him such a hit. It certainly worked well through TWO FACES HAVE I, and LIGHTNING STRIKES. It was all easy-gravy for Lou from then on! All of the oldie music numbers were perfectly reproduced by the tight 8-piece band and the 2 talented backup female vocalists. Lou's audience banter included mention of seeing Dion at 15 in a shark-skin suit and recollections of Lou's old hometown near Pittsburgh... He begins to croon THE GYPSY CRIED with perfect falsetto pitch and his creative tempo changes. That song was a collaborative effort between his long-time muse, a 30-ish, classically trained woman named Twyla Herbert and the 15-year old Lou. He's referred to her in the past as "a psychic gypsy"…hence the song? A controversial song in the uptight year of 1966, the lyrics to RHAPSODY IN THE RAIN had to be altered back then, so as not to be sexually suggestive. To clear that up tonight, Lou sang both versions with accentuated body movements - just so there wouldn't be any misunderstandings! Singing a fresh rendition of BEYOND THE BLUE HORIZON brought lucrative memories because director Barry Levinson decided to use the song in the super-successful movie "Rainman". It netted Lou his "first New York City brownstone". Lou was definitely a happenin' guy. But it wasn't always like that. In the early 1970's, after the tumultuous atmosphere of fame, bodyguards and drugs, he dropped out of the public eye voluntarily. He worked at odd jobs in order to put things into perspective, to be "ordinary" … once more. Then, in the 1980's he came back with a new lease on life and started his creative juices flowing again, followed by a string of successes. He resides in New York City because of it's creative atmosphere. His performance ended with the melancholic NEVER MY LOVE and Lou Christie's speech with a sincere "Thanks for supporting Rock 'N Roll - and me".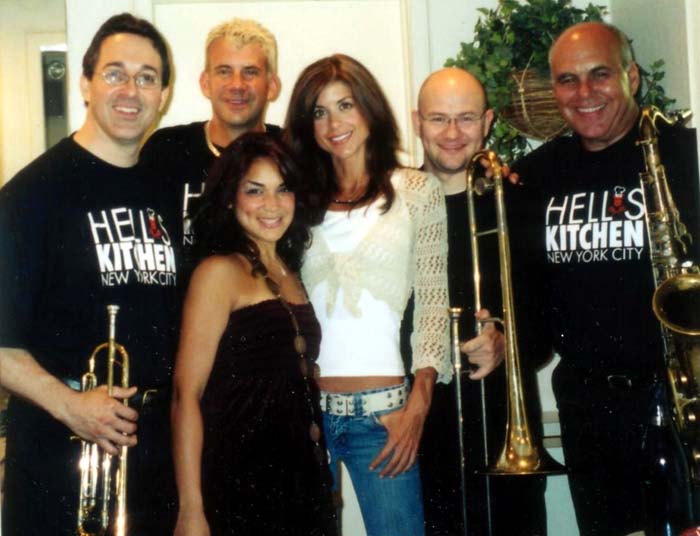 The Hell's Kitchen Horns and the Crayons - Backstage at the North Fork Theatre at Westbury